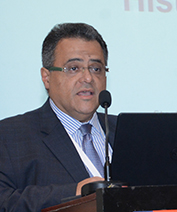 Dear Members of our Great WScS,
I am writing this message to you after the end of our hugely successful WS 7 meeting and cadaveric course in New Delhi, India
We had a great Cadaver course, more than 100 surgeons from all around the world had two very fruitful days of intensive hands on education delivered by some of the best spine surgeons and educators in the world with a great outcome. The course was very interactive with great case discussions and clinical applications with very positive feedback from participants.
Then we had our WS7 with about 400 attendees from all over the world interacting, learning and exchanging experience with the masters of spine surgery in the world, a meeting described by one of the attendees as a life changing experience.
But above all we all had a great time, gained huge number of new friends, added a lot of names to our contact lists and wrote a new phrase in the great success story called WScS
We also enjoyed the beautiful India, learned a lot of its culture , witnessed the great hospitality and friendship of its people, visited in our spare time some of the great monuments India is famous for. The local organizing committee, Dr. SandeebVaishya and his great team did a marvelous job on all aspects, organizing both the scientific and social aspects to the best standards.
I was truly honored being the president of WScS for the past two years. My term of presidency will come to an end by the end of May 2016, I will be then the immediate past president and executive board member for the rest of my life. During my two years' term of presidency, WScS continued its 16 years history of huge success.
WScS organized during my two years term of presidency 10 different major meetings and hands on courses in Indonesia, Egypt, Pakistan, UK and India; those courses caused a real positive impact on the expertise and performance of more than 2000 spine surgeons around the world, that means that we were organizing a major educational event every 70 days or so, a rate that never occurred with any other spine society on EARTH. I am not about to say that this was my effort solely, this is a cumulative effort of all WScS board members that were the back bone of our success, I was only honored to be the team leader who got the best out of each and everyone of them.
My successor, Sait Naderi is a long term WScS veteran, served as a very successful WSCJ editor in chief for a very long time and I expect him not only to continue leading our society in a successful way, but also to take it to new horizons that will make it even better in delivering its educational mission.
And now, after serving my society for the past 13 years, I am finishing my term of presidency with great sense of pride and with deep feeling of relief to have been able to carry this huge and precious flag of the WScS that was first raised by our founder Edward Benzel and will deliver it to my successor handing him not only a strong society,but also a hugely expanding and truly thriving one.
I promise you all to stay forever as a true servant of this society, its members and the educational message I always worked for
LONG LIFE WScS
Immediate Past President , WScS
Abdelfattah Saoud MSc,MD,PhD